Andreas Bärtschi
Postdoctoral Research Associate
CCS-3 / formerly CNLS and NSEC
Theoretical Computer Science, Quantum Computing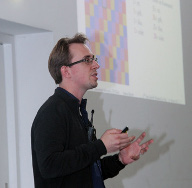 Office: TA-3, Bldg 508, Room 127
Mail Stop: B256
Phone: (505) 667-8734
Fax:
baertschi@lanl.gov
home page

Educational Background/Employment:
PhD Computer Science (2017), Advisor: Peter Widmayer, ETH Zürich
MSc Mathematics (2011), ETH Zürich
BSc Mathematics (2009), ETH Zürich
Employment:
Professional Teaching Certification: Didaktikzertifikat (2011, to teach at college level) and Lehrdiplom (2019, to teach at high school level), Mathematics, ETH Zürich
Research Interests:
My research interests lie in the design and analysis of quantum algorithms for combinatorial optimization problems, in particular through:
Quantum Alternating Operator Ansatz (QAOA),
including initial state preparation and the design, compilation and analysis of mixing operators and phase-separation operators;
Quantum Annealing with D-Wave,
including classical preprocessing and graph embedding tasks.
Selected Recent Publications:
Publication lists are also available in the DBLP Computer Science Bibliography or on Google Scholar.

Peer-reviewed journals:
Andreas Bärtschi, Evangelos Bampas, Jérémie Chalopin, Shantanu Das, Christina Karousatou, and Matúš Mihalák.

Near-gathering of energy-constrained mobile agents.

Theoretical Computer Science

849

:35–46, 2021. doi:10.1016/j.tcs.2020.10.008.
Andreas Bärtschi, Jérémie Chalopin, Shantanu Das, Yann Disser, Barbara Geissmann, Daniel Graf, Arnaud Labourel, and Matúš Mihalák.

Collaborative delivery with energy-constrained mobile robots.

Theoretical Computer Science

810

:2–14, 2020. doi:10.1016/j.tcs.2017.04.018.
Andreas Bärtschi and Subhash Suri.

Conflict-Free Chromatic Art Gallery Coverage.

Algorithmica

68(1)

:265–283, 2014. doi:10.1007/s00453-012-9732-5.
Peer-reviewed conference proceedings:
Other:
Andreas Bärtschi.

Efficient Delivery with Mobile Agents.

Doctoral Thesis, ETH Zürich, 2017.

doi:10.3929/ethz-b-000232464.
Andreas Bärtschi.

Spieltheorie.

Unterrichtsmaterialien Mathematik, 2011.

EducETH.
Invited Talks:
QLunch, University of Copenhagen, and QIT Group Seminar, ETH Zürich:

Preparation and Compression of Symmetric Pure Quantum States

, August 2019. A talk on circuits for symmetric pure quantum states, extending work on Dicke states published at FCT 2019. Slides.

CASIS "Quantum Sensing and Information Processing" Summer Lecture Series, Lawrence Livermore National Laboratory:

Quantum Computing Algorithms

, July/August 2019. Introduction to quantum algorithms with interactive circuit examples. Lecture Series with Video, Slides, Interactive Examples.

ISTI Seminar Series, Los Alamos National Laboratory:

Efficient Delivery by Heterogeneous Mobile Agents

, August 2017. A whiteboard talk on time-sensitive and energy-efficient transportation problems.

DKE, Maastricht University:

Energy-efficient Delivery by Heterogeneous Mobile Agents

, June 2017. A talk based on work published at STACS 2017. Slides.

LIF, Aix-Marseille University:

Collaborative Delivery with Energy-Constrained Mobile Robots

, December 2016. A blackboard talk based on work published at SIROCCO 2016.

11th Swiss Scientific Olympiads Day, University of Bern:

Vom Plattenleger zum Plattenputzer

, October 2015. A talk on coloring problems in mathematical olympiads and in computer science research. Slides.