The sponsorship of conferences is one of the major institutional activities of the Center for Nonlinear Studies. Since the CNLS serves as an interface between mission critical research at LANL and the outside research community, conference sponsorship is an activity of vital importance for the Center and the Laboratory.
In particular, sponsorship of conferences accomplishes the following:
It enables the CNLS to identify and explore the widest possible range of nonlinear and complex systems problems.
It helps disseminate the latest developments in nonlinear and complex systems science.
It helps form and fosters research collaborations between LANL researchers and outside researchers and academia.
It helps build new areas of research and refine the direction of existing areas of research.
To learn more about obtaining conference sponsorship through CNLS, please visit our Conference Sponsorship page.
CNLS Workshops 2021

Organizers:
Russell Bent (LANL)
Michael Chertkov (University of Arizona)
Deepjyoti Deka (LANL)
Harsha Nagarajan (LANL)
Anatoly Zlotnik (LANL)

Organizers:
Kenya Yniguez Vazquez
Rebecca McDonald
Murray Wolinsky

Machine Learing in Solid Earth Geoscience
Virtual Lecture Series via Webex
Every other Friday, beginning March 26th at 8:30 AM
Organizers:
Paul Jonhson (LANL)
Hari Viswanathan (LANL)

Organizers:
Walter Malone (LANL)
Guoqing Zhou (LANL)
Ben Nebgen (LANL)
Kipton Barros (LANL)
Justin Smith (LANL)
Sergei Tretiak (LANL)
Ying Wai Li (LANL)
Nicholas Lubbers (LANL)
David Montgomery (LANL)
Kyungtae Kim (LANL)


The Event will be held on Webex with poster session on Zoom
May 17-18, 2021



October 28th-30th, 2021

Organizers:
CNLS Workshops 2020

Organizers:
Andrey Lokhov (LANL)
Arvind Mohan (LANL)
Michael Chertkov (University of Arizona)

Organizers:
Ping Yang (LANL)
Enrique R Batista (LANL)
Franz J Freibert (LANL)

Conference on Data Analysis
Eldorado Hotel & Spa, Santa Fe, NM
February 25-27, 2020
Organizers:
Kary Myers (LANL)
Emily Casleton (LANL)
Mike Grosskopf (LANL)

Organizers:
Paul Johnson (LANL)
Greg Beroza (Stanford)
Eric Bylaska (PNNL)
Maarten de Hoop (Rice)
Youzuo Lin (LANL)
Hari S. Viswanathan (LANL)

Organizers:
Yogesh N. Joglekar, IUPUI, Indianapolis
Avadh Saxena, Los Alamos National Laboratory

Organizers:
Sergei Tretiak (LANL)
Tammie Nelson (LANL)
Organizers:
Angel Garcia (LANL)
Robert Ecke (LANL)
David Campbell (Boston)
CNLS Workshops 2019

Organizers:
Russell Bent (LANL)
Michael Chertkov (LANL)
Carleton Coffrin (LANL)
Deepjyoti Deka (LANL)
Yury Maximov (LANL)
Organizers:
Joseph Carlson (LANL, T-2)
Organizers:
Rangachary Mukundan (LANL, MPA-11)
Enrique Batista (LANL, T-CNLS)

Organizers:
Tim Germann (LANL, T-1)
Arvind Mohan (LANL, T-CNLS/T-4)
Gowri Srinivasan (LANL, XCP-8)

Organizers:
Hou-Tong Chen (LANL)
Igal Brener (SNL)

Organizers:
Paul Johnson (LANL)
Greg Beroza (Stanford University)
Eric Bylaska (PNNL)
Maarten de Hoop (Rice University)
Hari S. Viswanathan (LANL)

Organizers:
Filip Ronning (LANL)
Qimiao Si (Rice University)
Vivien Zapf (LANL)
Jian-Xin Zhu (LANL)
Organizers:
Kari Sentz (LANL, CCS-3)
Aric Hagberg (LANL, CCS-DO)
Nick Hengartner (LANL, T-6)
Lattice QCD
La Posada de Santa Fe, Santa Fe, NM
August 28-30, 2019
Organizers:
Organizers:
Luis Chacon (LANL)
Adam Stanier (LANL)
Organizers: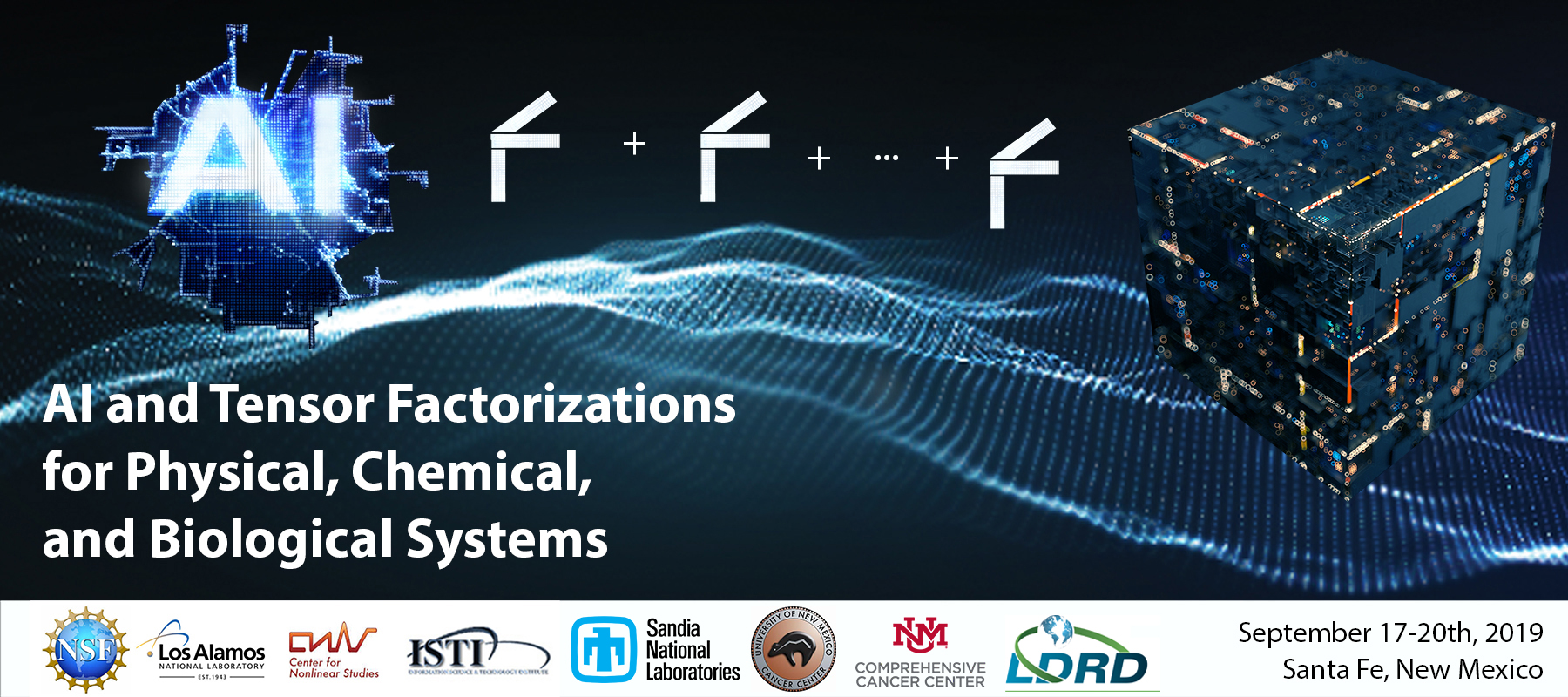 Organizers:
Boian Alexandrov (LANL)
Daniel Dunlavy (SNL)
Ludmil Alexandrov (UCSD)

dfnWorkShop
Inn and Spa at Loretto, Santa Fe, NM
Santa Fe, NM
September 23-25, 2019
Organizers:
Jeffrey Hyman (LANL)
Carl Gable (LANL)
Organizers:
Phillip J. Wolfram (LANL-T3)
Mark Petersen (LANL-CCS2)
Emerging Global Challenges Symposium
Los Alamos National Laboratory, Los Alamos, NM
September 29-October 1, 2019
Organizers:
Paul Knepper (LANL, NSIS)
Rajan Gupta (LANL, T-2)
Jack Shlachter (LANL, T-DO)

Organizers:

Organizers:
Dana Dattelbaum (LANL)
Josh Coe (LANL)
CNLS Workshops 2018
Organizers:
Michael Chertkov (LANL)
Andrey Lokhov (LANL)
Organizers:
Organizers:
Paul Johnson (LANL)
Gowri Srinivasan (LANL)
Organizers:
Kary Myers (LANL)
Earl Lawrence (LANL)
QCD Evolution
Drury Plaza Hotel, Santa Fe, NM
May 20-24, 2018
Organizers:
Organizers:
Hannes Jonsson (Univ. of Iceland)
Enrique Batista (LANL)
Blas Uberuaga (LANL)
Art Voter (LANL)
Organizers:
Organizers:
Organizers:
Paul Johnson (LANL)
TJ Ulrich (LANL)
Carene Larmat (LANL)
Organizers:
Christopher Fryer (LANL)
Aaron Couture (LANL)
Tom Verstrand (LANL)
Aimee Hungerford (LANL)
Organizers:
Cristiano Nisoli (LANL)
Avadh Saxena (LANL)
Cynthia Reichhardt (LANL)
Francesco Caravelli (LANL)
Organizers:
Bette Korber (LANL)
Karina Yusim (LANL)
William Fischer (LANL)
Thor Sandsted (Ragon)
CNLS Workshops 2017
Organizers:
Scott Backhaus (LANL)
Russell Bent (LANL)
Michael Chertkov (LANL)
Organizers:
Organizers:
Eli Ben-Naim (LANL)
Michael Chertkov (LANL)
Angel E. Garcia (LANL)
Avadh Saxena (LANL)
Organizers:
Stanca Ciupe (Viginia Tech)
Jessica Conway (Penn State)
Nick Hengartner (LANL)
Ruy Ribiero (LANL)
2017 Nuclei SciDAC
Hotel Santa Fe, Hacienda and Spa, Santa Fe, NM
June 6-8, 2017
Organizers:
Organizers:
Jerome Daligualt (LANL)
Didier Saumon(LANL)
Organizers:
Markus Garst (TU Dresden)
Marc Janoschek (LANL)
Shizeng Lin (LANL)
Ivar Martin (Argonne National Lab)
Filip Ronning (LANL)
Avadh Saxena (LANL)
Organizers:
Baha Balantekin (UW Madison)
Vincenzo Cirigliano (LANL)
George Fuller (UC San Diego)
Mark Paris (LANL, Chair)
Shashank Shalgar (LANL)
Organizers:
Gian Luca Delzanno (LANL)
Joseph E. Borovsky (Space Science Institute)
FIESTA 2017
Eldorado Hotel, Santa Fe, NM
September 17-22, 2017
Organizers:
Patrick Talou (LANL)
Fredrik Tovesson (LANL)
Morgan C. White (LANL)
Dana L. Duke (LANL)
Brett Manning (LANL)
Denise Neudecker (LANL)
Gencho Rusev (LANL)
Ionel Stetcu (LANL)
E906/E1039 Collaboration Workshop
La Fonda on the Plaza, Santa Fe, NM
November 29 - December 1, 2017
Organizers:
Kun Liu (LANL)
Andi Klein (LANL)
Organizers:
CNLS Workshops 2016
Organizers:
Misha Chertkov (LANL)
Kipton Barros (LANL)
Organizers:
Kary Myers (LANL)
Earl Lawrence (LANL)
Organizers:
Gian Luca Delzanno (LANL)
Vania Jordanova (Intelligence and Space Research)
Mike Henderson (Intelligence and Space Research)
Organizers:
Organizers:
Filip Ronning (LANL)
Cristian Batista
Dmitri Maslov (University of Florida)
Andrey Chubukov (University of Minnesota)
Organizers:
Stress State of the Earth
Inn and Spa at Loretto, Santa Fe, NM
October 19-21, 2016
Organizers:
Paul Johnson (LANL)
David Coblentz (LANL)
CNLS Workshops 2015
Organizers:
Organizers:
Gnana Gnanakaran (LANL, Theoretical Division)
Elizabeth Hong-Geller (LANL, Bioscience Division)
Rashi Iyer (LANL, Defense Systems and Analysis Division)
Alexander Koglin (LANL, Bioscience Division)
Martin Pos (Goethe-University, Frankfurt)
Mike Wall (LANL, Computer, Computational and Statistical Sciences Division)
Organizers:
Organizers:
Nick Hengartner (LANL)
Eric Matzner-Lober (University of Rennes, Agrocampus)
Erwan Lepennec, Ecole Polytechnic
Organizers:
Organizers:
Jian-Xin Zhu (LANL)
Joel Kress (LANL)
John Wills (LANL)
Organizers:
Avadh Saxena (LANL)
Panos Kevrekidis (U Mass)
Organizers:
Ivan Christov (LANL)
Robert E. Ecke (LANL)
Hari S. Viswanathan (LANL)
Duan Z. Zhang (LANL)
CNLS Workshops 2014
Organizers:
Ruy Ribiero (LANL)
Alan Perelson (LANL)
Steven Kleinstein (Yale)
Vitaly Ganusov (U. Tennessee)
Organizers:
Turab Lookman (LANL)
Frank Alexander (LANL)
K. Rajan (ISU)
Organizers:
Cathy Christofferson (LANL)
Nathan Urban (LANL)
Organizers:
Kary Myers (LANL)
Sandy Thompson (PNNL)
Organizers:
Jennifer Hollingsworth (LANL)
John Sarrao (LANL)
Quanxi Jia (LANL)
Millicent Firestone (LANL)
Alexander Balatsky (LANL)
Vivien Zapf (LANL)
Organizers:
Organizers:
Joe Carlson (LANL)
Robert Ecke (LANL)
Christopher Fryer (LANL)
Hui Li (LANL)
Antonio Redondo (LANL)
Michael S. Warren (LANL)
CNLS Workshops 2013
Organizers:
Nick Hengartner (LANL)
Eric Matzner-Lober (U. Rennes 2 and AgroCampus Rennes)
Organizers:
Organizers:
Sergei Tretiak (LANL)
Andriy Zhugayevych (LANL)
Enrique Batista (LANL)
Organizers:
Cris Moore (SFI)
Aric Hagberg (LANL)
Organizers:
Beth Wingate (LANL)
Geoff Vallis (Princeton/GDFL)
Organizers:
Brian Munsky (LANL)
Gnana Gnanakaran (LANL)
Bill Hlavacek (LANL)
Organizers:
Mike Wall (LANL)
Gnana Gnanakaran (LANL)
Brian Munsky (LANL)
Bill Hlavacek (LANL)
Yi Jiang (LANL)
Jim Faeder (U. Pitt.)
Ilya Nemenman (Emory)
Organizers:
Turab Lookman (LANL)
Frank Alexander (LANL)
K. Rajan (ISU)