Srirupa Chakraborty
CNLS Postdoctoral Research Associate
T-6/CNLS
Computational modeling and simulations of biomolecules, theoretical biophysics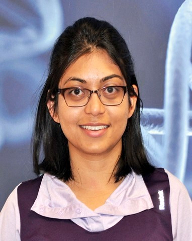 Office: TA-3, Bldg 1690, Room 115
Mail Stop: K710
Phone: (505) 667-5609
Fax: (505) 665-7652
srirupac@lanl.gov
home page

Educational Background/Employment:
Ph.D. (2016) Biophysics, State University of New York, Buffalo, USA
M.Sc. (2009) Physics, Indian Institute of Technology, Guwahati, India
B.Sc. (2007) Physics, Presidency College, University of Calcutta, India
Employment:

2018-present: Postdoctoral Research Associate, Los Alamos National Laboratory
2016-2017: Visiting Scientist, IBM T. J. Watson Research Center, NY
Research Interests:
I am interested in computer-aided structural modeling and simulations of biomolecules. My current research aims to elucidate the conformational dynamics of HIV envelope glycoproteins and ultimately aid in designing knowledge-based therapeutic strategies. Towards this goal, I am applying atomistic and coarse-grained molecular dynamics simulations and working on developing novel tools and techniques to bridge in silico models and experimental results through bioinformatics-based data mining and statistical analyses.
Selected Recent Publications:
Full publication list in Google Scholar

Chakraborty, S., Das, P.,

Emergence of Alternative Structures in Amyloid Beta 1-42 Monomeric Landscape by N-terminal Hexapeptide Amyloid Inhibitors

, Nature Scientific Reports

7.1,

9941 (2017)
Gupta, S., Chakraborty, S., Vij, R., Auerbach, A.,

A mechanism for acetylcholine receptor gating based on structure, coupling, phi, and flip" - Long- and short-range interactions with the M2-M3 linker suggest a mechanism for acetylcholine receptor gating

, J. Gen. Physiol.

149(1),

85-103 (2017)
Nayak, T., Chakraborty, S., Zheng, W., Auerbach, A.,

Structural correlates of affinity in fetal versus adult endplate nicotinic receptors

, Nature Communications

7,

11352 (2016)
Chakraborty, S., Zheng, W.,

Decrypting structural, dynamic and energetic basis of kinesin interacting with tubulin dimer in three ATPase states by all-atom molecular dynamics simulation

, ACS Biochemistry

54,

859-869 (2015)
Purohit, P., Chakraborty, S., Auerbach, A.,

Function of the M1 pi-helix in endplate receptor activation and desensitization

, Journal of Physiology

593,

2851-2866 (2015)
Nayak, T., Chakraborty, S., Bruhova, I., Gupta, S., Zheng, W., Auerbach, A.,

Structural correlates of affinity in fetal versus adult endplate nicotinic receptors

, Proceedings of National Academy of Sciences, USA

111(49),

17660-6 (2014)