Lauren A. Castro
Postdoctoral Research Associate
A-1/CNLS
Ecology and Evolution of Infectious Diseases & Computational Epidemiology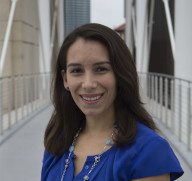 Office: TA-3, Bldg 1690, Office 117
Mail Stop: B258
Phone: (505) 000-0000
Fax: (505) 665-2659
lcastro@lanl.gov
home page
Research highlight
I am a computational epidemiologist whose research is at the interface of infectious disease dynamics, statistical inference, and global health security. I have applied cutting-edges techniques from a vast array of complex systems science to a range of infectious diseases: arboviral (e.g. Zika, Dengue), respiratory (e.g., COVID-19, seasonal influenza/A H3N2), and sexually transmitted (e.g. HIV). During the 2016 Zika international public health emergency of concern and the 2020 COVID-19 pandemic, I've interacted with various government agencies, (e.g. Texas Department State Health Services, New Mexico Department of Health, and Centers for Disease Control and Prevention) to develop real-time decision-support models and software. As a Postdoctoral Research Associate at Los Alamos National Laboratory (LANL) within the Information Systems and Modeling Group, I am continuing to apply computational methods to data-driven infectious disease research questions surrounding the global migration patterns of cholera, the environmental drivers of seasonal dengue, and the spread of COVID-19.

Educational Background/Employment:
PhD (2019) Ecology, Evolution, and Behavior, The University of Texas at Austin
BA (2013) Ecology and Evolutionary Biology, Princeton University
Employment:

Postdoctoral Research Associate (2019-Present): CNLS/A-1, Los Alamos National Laboratory, Los Alamos, NM
Research Interests:
Strategies for integrating pathogenic genomic data into infectious disease surveillance
Short-term forecasting of infectious diseases (COVID-19, dengue) and other time series phenomena
Using genomic data to infer human mobility patterns
Selected Recent Publications:
Castro LA et al.

Using heterogeneous data to identify signatures of dengue outbreaks at fine spatial-temporal scales across Brazil

, PLoS Neglected Tropical Diseases.

In review

(2020).
Castro LA, Bedford T, Meyers LA.

Early prediction of antigenic transitions for influenza A/H3N2

, PLoS Computational Biology. 

16(2),

e1007683 (2020).
Castro LA, Fox SJ, Chen X, Liu K, Bellan SE, Dimitrov NB, Galvani AP, Meyers LA.

Real-time Zika risk assessment in the United States

, BMC Infectious Diseases.

17(1)

284 (2017).