Kun Wang
CNLS Postdoctoral Research Associate
CNLS, EES-17
Machine Learning in Geophysics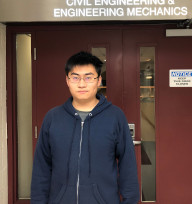 Office: TA-03, Bldg 1690, Room 107
Mail Stop: B216
Phone: (505) 000-0000
Fax: (505) 665-2659
kunw@lanl.gov
home page
Research highlight
Convolutional auto-encoder and spectral analysis for predicting fault failure from seismic signals.
Physics-informed convolutional auto-encoder for fluid flow in nano-cale pores of shale formation.
Deep reinforcement learning for developing computational mechanics models.
Multiscale LBM-DEM-FEM coupling for fractured porous media simulations.

Educational Background/Employment:
Ph.D. (2019) Computational Geomechanics, Columbia University, New York, USA
M.S. (2015) Mechanical Engineering, Columbia University, New York, USA
Dipl. Ing. (2013) Mechanical Engineering, University of Technology of Troyes, Troyes, France
Employment:

2015-2019 Research Assistant, Department of Civil Engineering and Engineering Mechanics, Columbia University, New York, MY.
Professional Training:

2019-present Postdoctoral Associate at Los Alamos National Laboratory, Los Alamos, NM.
Research Interests:
Multi-scale and multi-physics modeling of geological systems
Physics-informed data-driven computational geomechanics.
Reinforcement learning for material constitutive modeling.
Selected Recent Publications:
Google Scholar: Kun Wang
K Wang, Y Chen, M Mehana, N Lubbers, KC Bennett, QJ Kang, HS Viswanathan, TC Germann,

A physics-informed and hierarchically regularized data-driven model for predicting fluid flow through porous media

, Journal of Computational Physics.

under review,

(2020).
K Wang, KC Bennett, PA Johnson,

Estimating fault slow slips from seismic signals via convolutional auto-encoder and spectral analysis

, IEEE Transactions on Geoscience and Remote Sensing.

under review,

(2020).
A Fuchs, Y Heider, K Wang, WC Sun, M Kaliske,

DNN2: a hyperparameter reinforcement learning game for self-design neural network elasto-plastic constitutive laws

, Computational Mechanics.

under review,

(2020).
K Wang, WC Sun, Q Du,

A non-cooperative meta-modeling game for automated third-party calibrating, validating and falsifying constitutive laws with parallelized adversarial attacks

, Computer Methods in Applied Mechanics and Engineering.

373,

(2020). Link
Y Heider, K Wang, WC Sun,

SO(3)-invariance of informed-graph-based deep neural network for anisotropic elastoplastic materials

, Computer Methods in Applied Mechanics and Engineering.

363,

(2020). Link