Guo Chen
CNLS Postdoctoral Research Associate
T-10/CNLS
Biological Physics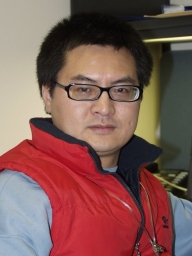 Office: TA-3, Bldg. 410, Rm. 102F
Mail Stop: K710
Phone: (505) 606-1448
Fax: (505) 665-3493
chenguo@lanl.gov
home page
Research highlight

Educational Background/Employment:
B.E. (1992) Materials Science, Sichuan University, China
M.S. (1995) Condensed Matter Physics, Graduate School (Beijing), University of Science and Technology of China &amp Chinese Academy of Sciences, China
Ph.D. (2003) Biological Physics, Rensselaer Polytechnic Institute
1995-1999 Assistant Professor ('95-'97)/Lecturer ('97-'99) of Physics, East China Normal University, Shanghai, China.
2005-present Postdoctoral Research Associate, Los Alamos National Laboratory
Research Interests:
Protein dynamics: Conformation and folding dynamics of proteins.
Cellular Dynamics: Epi-/endo-thelial barrier function, cell-surface interaction and signal transduction/substance transport through membranes.
Selected Recent Publications:
H. Frauenfelder, P.W. Fenimore, G. Chen and B.H. McMahon, Protein folding is slaved to solvent motions. Proc. Natl. Acad. Sci. USA. 103(42), 15469-15472 (2006).