Dibyajyoti Ghosh
Computational Material Science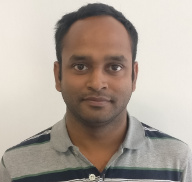 Office: TA-3, Bldg 1690, Room 121
Mail Stop: B258
Phone: (505) 665-6251
Fax: (505) 665-2659
dibyajyoti@lanl.gov
home page
Research highlight
Charge Carrier Dynamics in Photovoltaics
Transport Through Nano-Junctions
Magnetic and Optoelectronics in Low-Dimensional Materials

Educational Background/Employment:
Ph.D (2016) Material Science, CPMU/TSU, JNCASR, Bangalore, India
M.S. (2012) Material Science, CPMU, JNCASR, Bangalore, India
B.Sc. (2009) Chemistry, Dept. of Chemistry, Visva Bharati, WB, India
Employment:

2018 - Present : Postdoctoral Research Associate, Los Alamos National Laboratory, NM, USA
2016 - 2018 : Postdoctoral Research Fellow, Dept. of Physics and Chemistry, Univ. of Bath, UK
Research Interests:
Computational Modelling of Materials for Solar Cells : I am extensively using ab initio methods to study the charge carrier dynamics in lead halide perovskite solar cells. The effect of lattice-dynamics, point and extended defects on optoelectronic and photovoltaic properties of halide perovskites is my another topic of on-going research. I am also investigating the possible route for enhancing the phase-stability by exploring the vast chemical and configurational space of these hybrid perovskite materials.
Gamma and X-Ray Detectors : I am also involved in material designing for next generation Gamma and hard X-ray detectors.
Nano-materials for Thermoelectrics and Spintronics : Understanding heat, charge and spin transport through magnetic nano-junctions is my another research interest. These are highly important for thermoelectric, spin-caloritronics and digital data-storage applications.
Selected Recent Publications:
Full publication list on Google Scholar
Few selected are listed below:
Mixed A-Cation Perovskites for Solar Cells: Atomic-Scale Insights Into Structural Distortion, Hydrogen Bonding and Electronic Properties, D. Ghosh, A. R. Smith, A. B. Walker and M. S. Islam, Chem. Mater 30 , 5194
Phase Behaviour and Polymorphism of Formamidinium Lead Iodide, O. J. Weber, D. Ghosh, S.Gaines, P. F. Henry, A. B. Walker, M. S. Islam and M. T. Weller Chem. Mater., 2018, 30, 3768
Shining Light on New Generation Two Dimensional Materials in Computational Viewpoint, A. Bandyopadhyay, D. Ghosh, S. K. Pati, J. Phys. Chem. Lett., 2018, 9, 1605, Cover Page of April, 2018
Good Vibrations: Locking of Octahedral Tilting in Mixed-Cation Iodide Perovskites for Solar Cells, D. Ghosh, P. W. Atkins, M. S. Islam, A. B. Walker and C. Eames, ACS Energy Lett., 2017, 2, 2424
Stable Line Defects in Silicene, D. Ghosh, P. Parida, and S. K. Pati, Phys. Rev. B,, 2015, 92, 195136
Transition Metal Embedded Two-Dimensional C3N4-graphene Nanocomposite: A Multifunctional Material, D. Ghosh, G. Periyasamy and S. K. Pati, J. Phys. Chem. C, 2014, 118, 15487