Hotel:
The "grande dame" of Santa Fe hotels, La Fonda is just steps from museums, galleries, shops and restaurants. A showcase for the work of local artisans, La Fonda is loved for many of the same reasons that Santa Fe is loved: award-winning pueblo-style Spanish architecture and décor, luxurious, inviting ambience, and warm hospitality.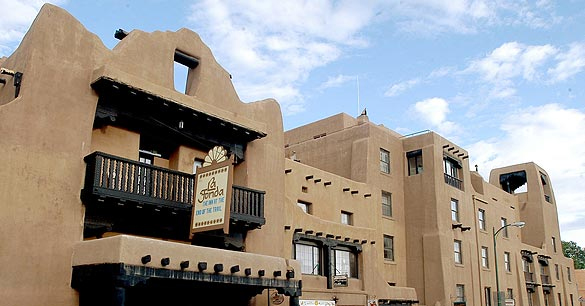 Transportation:
It is most common and affordable for visitors to fly into the Albuquerque Sunport. Shuttles are routinely available from the airport to Santa Fe.
Shuttle Service from Albuquerque Sunport:
Roadrunner Shuttle
(505) 424-3367
Sandia Shuttle Express
(888) 775-5696 (toll free)
www.sandiashuttle.com
Santa Fe Shuttle
(888) 833-2300 (toll free)
http://www.shuttlesantafe.com/
Park and Ride from Los Alamos:
The Blue Route of the Park and Ride bus is an excellent way to get from the Lab to the conference and back each day. It costs $3 each way (less than a gallon of gas) and will be virtually empty as you will be riding opposite of commuter traffic. It will pick you up from either the Los Alamos Library or the TA-3 parking front gate parking lot and drop you off at Sheritan and Palace (2 easy blocks from the La Fonda hotel conference location).
Here are the pick up times from TA-3 (The library is 10 minutes earlier):
6:55 am
7:25 am
8:10 am
8:45 am
Here are the return times from the Plaza:
2:30 pm
3:30 pm
4:05 pm
4:50 pm
Local Attractions and Day Trips
For information about Santa Fe, visit http://santafe.org
For information about New Mexico, visit http://newmexico.org/
Local Attractions
Calendar of Events http://santafe.org/What_s_Happening_Now/index.html
El Rancho de las Golondrinas http://www.golondrinas.org/
We invite you to take a journey to the past at "The Ranch of the Swallows". This historic rancho, now a living history museum, dates from the early 1700s and was an important paraje or stopping point along the famous Camino Real, the Royal Road from Mexico City to Santa Fe, New Mexico. Experience the life of another time in a location unlike any other in America.
Georgia O'Keeffe Museum http://www.okeeffemuseum.org/visit/index.html
The Museum's collection of over 2990 works comprises 1149 O'Keeffe paintings, drawings, and sculpture, including promised gifts and extended loans. The Georgia O'Keeffe Museum is the largest single repository of O'Keeffe's work in the world. Throughout the year, visitors can see a changing selection of at least 50 of these works. In addition, the Museum presents special exhibitions that are either devoted entirely to O'Keeffe's work or combine examples of her art with works by her American modernist contemporaries. Over 140 artists have been exhibited at the Museum including Frank Stella, Jackson Pollack, Andy Warhol and Arthur Dove.
Museum of Spanish Colonial Art http://www.spanishcolonial.org/
The Spanish Colonial Arts Society collections were initiated in 1928. Today with 3,000 objects, the collections are the most comprehensive compilation of Spanish Colonial art of their kind. Dating from the Middle Ages to the New Millennium, the collections span centuries in art, place and time. Among the various media featured are santos (painted and sculpted images of saints,) textiles, tinwork, silverwork, goldwork, ironwork, straw appliqué, ceramics, furniture, books and more.
Historic Sites
http://santafe.org/Visiting_Santa_Fe/Things_to_Do/Historic_Sites/index.html
Road Trips
http://santafe.org/Visiting_Santa_Fe/Things_to_Do/Day_Trips/
Tours
http://santafe.org/Visiting_Santa_Fe/Things_to_Do/Tours/index.html
Night Life
http://santafe.org/Visiting_Santa_Fe/Things_to_Do/Nightlife/index.html