David Métivier
Postdoctoral Research Associate
T-4/CNLS
Theoritical Physics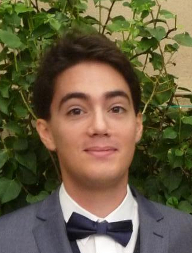 Office: TA-3, Bldg 1690, Room 123
Mail Stop: B258
Phone: (505) 667-7052
Fax: (505) 665-2659
metivier@lanl.gov
home page
Research highlight
I participated as a lecturer to the online Winter School on "Spectral Methods for Complex Systems" (January 2019) where I give an interlocutory talk (videos and slides are available) about spectral analysis in finite and infinite dimensional dynamical systems.

I recently worked on two papers on Thermostatic Controlled Loads (TCLs), showing effects of the disorder (meaning non identical TCLs) and the effect of a realistic Mean Field control. Basically, both effects greatly improve the resilience of ensemble of TCLs, making them more suitable for Demand Response.
○ Métivier, D., Luchnikov I., Chertkov C. (2018). Power of Ensemble Diversity and Randomization for Energy Aggregation. arXiv:1808.09555.
○ Métivier, Chertkov C. (2018). Mean Field Control for Efficient Mixing of Energy Loads. arXiv:1810.00450.
For another project on synchronization I work on the effect of delay in the Kuramoto model:
○ Métivier D., Gupta S. (2018). Bifurcations in the time-delayed Kuramoto model of coupled oscillators: Exact results. arXiv:1808.10436.

Educational Background/Employment:
Physics/Chemistry B.S. (2009 - 2011), "Classe Préparatoire aux Grandes Écoles" (Paris, France)
Physics B.S. (2011 - 2012), École Normale Supérieure de Lyon (Lyon, France)

Physics M.S. (2012 - 2014), École Normale Supérieure de Lyon (Lyon, France)

Physics Ph.D. (2014 - 2017), Laboratory of Mathematics J.A. Dieudonné (Nice, France)
Employment:

CNLS/T-4 Postdoctoral Research Associate, Los Alamos National Laboratory (November 2017 - Now)
Research Interests:
Statistical Physics; Nonlinear Physics; Out-of-Equilibrium Physics
Bifurcation in Kinetics Systems:
○ BGK Plasma instabilities (through Vlasov-Poisson equation)
○ Astrophysics instabilities (through Vlasov-Newton equation)
○ Dimensional reduction of bifurcation (from Vlasov to a reduced model)
○ Synchronization in coupled oscillators systems (through Kuramoto model)
Coulombian model for very large Magneto-Optical Trap
Thermostatic Controlled Loads: control of a large aggregate via mean field coupling
Selected Recent Publications: