Kipton Barros
CNLS Postdoctoral Research Associate
CNLS/T-4
Physics based materials modeling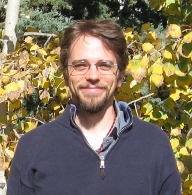 Office: TA-3 Bldg 1690, Room 119
Mail Stop: B258
Phone: (505) 667-6870
Fax: (505) 665-2659
kbarros@lanl.gov
home page
Educational Background/Employment:
B.S. (2001) Computer Science, Carnegie Mellon University
Ph.D. (2009) Physics, Boston University
Professional Training:

2009-2010 Postdoctoral Researcher, Department of Materials Science and Department of Applied Mathematics and Engineering Sciences, Northwestern University
Research Interests:
Multi-scale modeling of materials and defects
Linking MD, phase field crystal, and phase field models
Techniques for large scale parallel computation
Selected Recent Publications:
K. Barros, P. L. Krapvisky, and S. Redner,

Freezing into Stripe States in Two-Dimensional Ferromagnets and Crossing Probabilities in Critical Percolation

, Phys. Rev. E.

80

040101(R) 2009[arXiv:0905:3521].
M. A. Clark, R. Babich, K. Barros, R. Brower, and C. Rebbi,

Solving Lattice QCD systems of equations using mixed precision solvers on GPUs

, Comput. Phys. Commun.,

181

, 1517 (2010) [arXiv:0911.3191 ].